Is it t-shirt Tuesday already? Jeez! Where does the time go?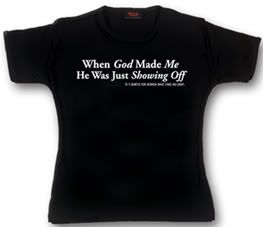 Oh, well then, excuse me. I have to go back down with the sinners now, but maybe you and Jesus can stop by later and we can all bow down to you.
And what is this shirt saying about God? Didn't pride cause the fall of Lucifer? Hmm. I wonder where he got it?
Saying this might destroy the space-time continuum or something, but I actually found a site with some Christian tees that are actually fairly cool and modern. It's called
C28 Christian Clothing
. Have a look.